More than three million people in over 150 countries use Teamup every month. From families with toddlers to teams in large global corporations, from school teachers to crane operators, so many people have demonstrated their creativity in using Teamup to get better organized, communicate more efficiently, reduce stress, and make life easier. Read more stories in our blog and feedback related to Teamup's COVID-19 Response. Or check out some of the million ways to use Teamup.
It is our customers who give us the opportunity to make an impact and contribute to a better world. Thanks a million for all your feedback!
We use teamup up in a school administration setting. We have several calendar feeds (mostly from Outook) compiled onto one calendar. It is helping us tremendously!
❤ David Chenault
First of all, THANK YOU! I never expected such a kind gesture that went over and beyond! These days, there are very few good things that other companies are willing to do for the greater good of others. We appreciate your kindness and we will make sure this is known to others. We will be very loyal customers of Teamup and will be one of your Ambassadors in Japan. If it helps, let me know if writing a review will help. We are happy to be reached for testimonials in the future. We are hoping to recover sooner. When things get back to normal, we will increase our subscription again. Please send our best regards to your CEO, and the rest of the TEAM UP team. This act of kindness will not go unknown and we will make sure to share the excellent understanding and wonderful customer service that you have. Thank you very much!
❤ Anne Kyle
My life just got so much more organized, I have been looking for a calendar tool like this for a while, and I finally found it. Keep up the great work!
❤ Zach Souders
I have been placed in charge of replacing our software (xxxxxx). They charge us $900/month to do everything that you are capable of doing.
❤ Taylor Collins
Top app already in the free version. A very successful little helper, detached from all conventional tools & apps (especially in a team).
❤ Anthony-Chris Thuns
We have been using TeamUp for our service scheduling for months and I want to commend you on a great product. It not only has been a lifesaver for our service technicians, but also our office staff in communication when things change and helps greatly take care of our customers in such an easy manner.
❤ Angela Steiner
First of all, this calendar is the best one I've ever worked with. I love it so much. It has been so wonderful using it and keeping my small Zoom class organized. Thanks so much for creating this, and I look forward to the feature advancements in the future. 
❤ Marcos Perez
I love your calendar and it is helping us greatly to deal with the COVID-19 restrictions that our lawn bowling club must follow with regards to the number of people who are allowed to bowl at one time.
❤ Jerry Michaels
I LOVE my Teamup Calendar, like.. LOVE LOVE LOVE. It has helped me so much with running my business and tracking my life in general – THANK YOU! 
❤ Lacey Whaley
First, I absolutely love TeamUp! This is the second theatre company I've managed where we've used it and it's so awesome.
❤ Alex Price
I love this product, it is so helpful for tracking online meetings during this covid19 situation.
❤ Ruth Roberts
It is a gorgeous app. It is a work agenda for appointments, graphically beautiful, fast to use and complete with functions, it is also instantly synchronized on all mobile devices and PCs. You can also have the backup in pdf. It has no comparison!
❤ Alta Marea
My partner and I love using the teamup app and can no longer imagine our life without it.
❤ Anne Krauel
Overall it worked great. The calendar had all the features I wanted (collaborative, colour coded, user friendly, time zones). It was also great to be able to set a default view.
❤ Linda Linsefors
have set up teamup to use as a communication tool for our Bowls Club members so that they know when events are scheduled at our club. It is has proved invaluable during COVID 19 and the limiting of numbers in the Signup function has been fantastic. To the point now most members prefer to signup via teamup for a game of bowls than by the old phone in and register method.
❤ Margaret Smith
I cannot hide from you that I am frankly and pleasantly impressed by your diligence, your kindness, your speed and the exceptional gesture of teamup. I immediately set about saving what is necessary and thank you very much for your gesture which will not be forgotten. I was already promoting your app, and will continue to do so.
❤ Hannie Zhu
We are a Team of 13 and often have 2 Interns as well. We are working in an old mansion and offer a great variety different counselling options and sociocultural and cultural events. As we have very different events that are taking place at the same time in our house, we are always short on rooms and have to manage our roomsituation as efficient as possible. With the teamup calendar everyone is now able, from every place to find a free room and does not have to come here in the house to look in our paper-calendar, we used before, which is very relieving for us and safes a lot of time. Because of Corona we had to find an option that we can work from home and manage our times in the house to avoid too many people in the house an keep the necessary distance. Teamup helps us now to find a free room in the house but also offers the possibility to look up where our teammembers are or what are they doing at a glance. We used 3 different papercalenders before to schedule all our team and events. Now we have one calendar which supplys every need we had. So thank you again Miranda for all your great support and your fast and helpful advices at the beginning! We appreciate it a lot!
❤ Christin
First, I'd like to thank you for your wonderful product. Teamup has provided my organization the ability to coordinate multiple resources across many different projects without requiring significant administrator oversight. Thanks and keep doing what your doing!
Thanks for the response Sarah! I never expect to receive a response from support emails so this was a nice surprise. I went with your recommendation to add a custom field. This solution does not significantly increase the workload of the users and provides the managers the ability to de-clutter the calendar.
❤ Nick Abruzzini
As always thanks for your patient and support. I have found your tips very useful, especially the one related to the implementation of an approval system.
❤ Fausto G
The digital marketing team at HPE is absolutely loving Teamup. The platform is saving us so much time and allowing the team to be able to activate social content across our digital platforms much more efficiently than before.
❤ Emily Bynum
We really like how Teamup can display multiple shared calendars on one main calendar interface, as it seems to be a great fit for our situation of needing to coordinate shifts for many lab members across several lab spaces. 
❤ Soma Kobayashi
Benutze Teamup nun schon ein paar Jahre und bin immer noch begeistert von der Einfachheit und Vielfältigkeit dieses Tools. Viele andere Kalendertools habe ich schon nach kurzer Zeit nicht mehr benutzt, weil es viel zu aufwändig war einen Termin einzutragen. Auch der Browserzugriff per Link, ohne Login, ist für mich ein grosser Pluspunkt. Weiter so!
❤ Rolf Hartmann
We are using the calendar to schedule our faculty members for class, as well as, scheduling the areas where students will be for those classes. This involves a mix of in person and online learning. When in person, we are trying to coordinate the areas we have available to remain socially distanced. We will be using the additional calendars to help plan space/distancing requirements.
❤ David Wilson
Very helpful. It always works, never given problems. I have been using it for almost a year with my colleague for work and we are able to interact very well.
❤ Federica Laudato
Did I say I really enjoy Teamup. Ya'll have a wonderful product! Very well Designed & Great User Experience. I am impressed with Teamup Customer Support, and of course my Rep Sarah. You are very knowledgeable and helpful. Teamup has Exceeded my Expectations with product features and support. You folks keep doing what you are doing. You've got the magic sauce, and know how to use it!
❤ Ken
Once you have understood the system and the functions, the app is a good appointment manager even for larger groups. Unfortunately, the function in the app is limited compared to the PC version. If the "Add" access right has been granted, it should still be possible to edit the appointment for a few minutes. (like in the browser on the PC) Then 6 stars would be appropriate.
❤ Galadriel Spiegel
We have been using TeamUp for the past couple of months and are loving how simple and effective it is to plan events we have happening.
❤ Lindsay H.
We've been using the free Teamup version at the Royal Military College here in Canada to provide a free, read-only shareable calendar to the Officer Cadets so that they are aware of the activities/events happening on campus. Teamup has been a great platform for us and is able to do what we want. 
❤ Jeremy B.
I've been using the free calendar for about 2 years in my store and I love it!
❤ Megan G
We've been using the app successfully since our early testing days in December last year through to a full launch this year with our entire staff at Marble Church. We went from a Word Document shared on a public drive for our calendar to this! So you can imagine how impressive and efficient it is for everyone to schedule things now! We've come a long way in a short time thanks to your great programmers. We chose your service over http://calendarwiz.com/ because the interface looks so much better on desktop and especially on mobile phones.
❤ Rick Harper
Thank you so much for the awesome support Sarah. I think Teamup is exactly what I was looking for. I also appreciate the quick response.
❤ Todd Garber
Good Tool for Booking of boats with group.
❤ Daniel Oswald
I liked Teamup because of the capability to create many calendar and many views. On top of that, addon functions like signup, addition customs fields, comments, sharing to internal and external people and notification is really useful. It meets the normal user experience. Good job and looking forward to see Teamup calendar goes beyond and enable better WOW user experience.
❤ Simon Ng
Hello, we are former Teamup users and actually prefer Teamup to Google calendar that we are now using. What we like about TeamUp is that names of calendar users display with colors in the phone app, as well as the computer.
❤ Joel Camenisch
Wow Sarah, thank you so much for taking the time with sharing this great information with me. I showed my manager the Teamup site and she loves it! Such great support and a great product!
❤ Jacquie
Thank you! – We really love your product, it has helped our office tremendously.
❤ Tracey Meyers
Thank you for your great product, we use it on a daily basis into our business for planning our small cruises availabilities.
❤ Brieuc
Great for organisation and for updating your teams.
❤ Kaylan Kasim
Best app for collective sharing calendar and activities display.
❤ Baraka Mwago (Google Play store review)
I think TeamUp is a brilliant product, love having multiple calendars with family members, makes life so much easier.
❤ Luke S.
I wish I had found Teamup sooner as I had been looking for an app like yours for some years. Better late than never!
❤ Stephen Edwards
Thank you, you have a great product and I do use it in another volunteer group that I work with, and it works very well.  
❤ Anne Stevens
I have to say, I am a big fan of your product. I've been doing calendars for multiple employees for industry-wide conventions for longer than I like to admit and your product has made an onerous task much easier to handle. Thank you.
❤ Patricia Bonamico
We have been testing your calendar for a few months now and are very satisfied. Even our not so tech-savvy colleagues like to use the calendar.
❤ Sven Hagedorn
Really easy to use. I'm computher illiterate and it's so simple after 30 mins of figuring it out 🙂
❤ Chucky R. Law (Review on Google Play Store)
I love TeamUp and have been using and recommending it for years (since 2016).
❤ Jacintha Sutton
I'm very happy to have found your services as it is one of the only online calendars I could find with a usable "Year" overview.
❤ Balthazar Sieders
Been using TeamUp for quite a while now and love it. Have turned a multitude of friends into full time users. Great product. 
❤ Spencer Vamplew
Just first need to say: Great calendaring tool!! So well thought out and intuitive. And the access control via links is very convenient; esp. since I have a number of admins for sub-calendars who hate to have to create new accounts to do things.
❤ Dan
I really love Teamup. Really. It's brilliant. Well done.
❤ Howard Treisman
Thanks again, this is easily the best calendar application I've used and I appreciate your very timely responses tremendously!
❤ Charles Moran
I take the opportunity to congratulate you guys on the program. We are a small Aircraft Management company and all the other Calendar/Scheduling Apps out there are stuffed with useless (for us) and pricey tools. Hope you get the app notifications soon, Its the only thing missing for it to be perfect.
❤ Javier Matheu
GREAT GOOGLEY MOOGLEY. Miranda, It's going to take me a little bit to wrap my head around all of this (I'll have to wait till toddler bedtime to have enough brain cells, I'm guessing.), but I wanted to write you now to let you know how much this response has blown me away. I can't believe how much thought and attention you've put into this, and I am excited to dive in. My goodness. I want to understand just how incredible it is before writing everyone in your company to tell them, but please know I plan on it. Thank you!
❤ Emily Haynes McGee
We have been paying subscribers of your Premium package since last year, we are very happy with the package provided by your company. And we have our operations based around your calendar capabilities.
❤ Henrique Gonçalves
Hello. I am using TeamUp (unpaid version) for my Therapy Coworking Space. I love TeamUp! I give each of my members their own unique link to use and everything is working nicely.
❤ Penny Mechley-Porter
I use teamup in my "real job" and have recommended it to many others. I'm a devoted Google Calendar user, but nothing beats the ease of use and accessibility of teamup!
❤ Nathan Reed
I am a french user of your wonderfully made shared calendar : simple, easy to use, with all the features I need : almost perfect. We are a small city in France, and my colleagues are about 60 years old, and don't all manage computers very well. That's why I needed a sharable-easy-to-use calendar. I am really counting on you !I am planning on upgrading to a premium account, if everything goes well (probably premium plan, to have access to file upload, and upgrade frequency of ICS feed refresh.
❤ Hélène Moronvalle
We use the calendar (which after searching a dozen or more calendar types out there, fits our needs nearly perfectly!) to schedule contractors on different jobs, at different locations. 
❤ Ann H
I have to say, I'm really impressed by your platform. I think it blows Google away, and I'm eager to see how the participants in this global gathering I'm convening are able to work with it. We start in two weeks…
❤ Ben Roberts
We have purchased the Premium Package for Teamup and we are loving it!
❤ Stephanie Bercich
Love this app, we all use it in the office.
❤ Karen Lambert
Your calendars are awesome and continue to be a great resource for our company.
❤ Sonya Whetstone
We have been using Teamup for a number of years. We find it very useful, in fact in my 22 years here, I find it as being the most well structured scheduler ever used .
❤ Sandro Galea
Great Software. It as changed the way we do business!!
❤ Keith Marshall
We found Team Up brilliant, so user friendly and intuitive.
❤ Katie Sherjan
I have been a user of your fantastic web-based calendar for years now and also introduced this tool to my team and we really find it very useful for our work. I have also seen some new features added to your app that are really great!
❤ Kelyn Ang
Thanks for your help, I may have said it before but this is a huge help in our school!
❤ Louise Murphy
So much easier to keep track of my team members while multitasking and managing numerous clients and projects simultaneously. Helps me keep track of who's on vacation, each member's schedule and availability for tasks and to project estimated completion dates and timelines. Also, great customer service! Thanks TeamUp!
❤ Kristie Liberti-Reinheld
I have been using TeamUp ever since I started my business. It has been working great and I love it and all my staff love it too. It is very easy to use and work.
❤ Kathy Facey
I am writing to let you know how crazy I am about this program. I've been telling everyone about it. I am using it as a task manager and it works so well! I've purchased for my church office and also purchased another for my home. I'm a fan!
❤ Pam Johnson
TEAM UP is great for this group; as it is helping us organize not only deadlines but different projects with different people, foresee release dates, etc.
❤ Liz Chu
I set up a team up account for our homeschooling group called Heartwood a year or so ago. We are very grateful for this helpful connected calendar.
❤ Nayana Yukich
First of all, we LOVE your product! We're a small family-owned business, and it meets our needs perfectly! Thank you very much for developing the calendar.
❤ Kevin
First of all I would like to say how I love this product, I have searched for some time to find a product that does what we need it to do and yours is the only one I can configure to work as we need.
❤ Jeff Hansen
I have been using Teamup for about a year now for my job. I track all outsource jobs for my company using 30+ outsourcers. It works exceedingly well. I use the sign option to track outsource jobs daily.
❤ Sonya
So far I'm loving your application. It's a standalone calendaring application with great collaboration options and an intuitive UI.
I have been using your calendars since before 2013 with great success. They are well-designed and easy to work with. Thank you.
❤ Carolyn Prime
Best rota app for small business, clear, simple, great! Would be lost without it. 6/5.
❤ Sabina Partyka
Thank you for a wonderful tool. I like not having to sign up, being able to give appropriate access to other people, and the fact that it just works. … And now I have one more thing to like about teamup: Your quick, personal response to my inquiry. Very little aggravates me more than a support agent simply following a script rather than reading my questions, or an automated
link to an irrelevant FAQ based on keywords.
❤ Dan Sommers
Great service by the way, thank you for making our lives easier… for free 🙂
❤ John Doyle
We have purchased and are now using and love it. Thanks for the product. It has freed up an incredible amount of time for our team.
❤ Mark Graves
I love the Teamup calendar. I'm not sure where my business would be without it, but it certainly wouldn't be as organized.
❤ Sergio Difranco
I am using Teamup for 3 years now and it work brilliantly.
❤ Jannie Jacobs
Our entire team uses Teamup and I must appluad you for an awesome product you've built.
❤ Will Preslar
Teamup is such a Great Tool! Really appreciate this Awesome App!
❤ Ken Lizotte
Love the flexibility of it. Love how I can have the app on multiple devices and update from any one of them within seconds of each other. Love the colour coding. Love the ability to do repeat. Would love for weekly repeat events to automatically include an editable sequential number but not a big issue. Thanks Teamup! You make planning for my business seamless & streamlined.
❤ Sandra Albin
I would like to say that our company loves using TeamUp for scheduling all our providers and clients! It is incredibly easy to use and makes scheduling a LOT easier!
❤ Matthew Johnson
Irreplaceable product / service!
❤ Alessandro Campidori
I really love your calendar, we use it everyday and I don´t think I would manage without it.
❤ Eva Olofsson
Best group calendar I've used yet. I create the calendar on the Teamup website via my PC, then send my staff the custom link to use on their Teamup phone app. Works like a dream, fast and easy, updates I make are immediate. I can colour code the jobs so my staff know how what they are, and I can have more than 1 per day making it easy to tell them apart. This app does everything I need it to do!
❤ Sharon Luke
I would like to thank you for creating such amazing product that saves our company enormous amount of time in preparing business schedules.
❤ Karl Nurijanyan
We use your product and are very happy customers. We produce 12-16 webcasts per month and use Teamup to schedule our staff. Works great.
❤ Bruce Arditte
My calendar is working well with my library's volunteer group, to such an extent that other volunteer groups are interested in using the same application.
❤ Tony Tarry
We have a supported living department, that sorts out shifts 24 hours a day, for around 120 staff based at 20~ different sites. They had previously used a shared outlook calendar, but after many years of usage, this started getting too big and breaking down. We switched over to teamup as an online calendar. It is far more reliable than outlook, and it's turned out to be brilliant, with staff having the teamup app on their devices being able to see available shifts.
❤ Mike Meaden
A Solid Professional & Reliable App. We've been using this app as a family for over a year now and I've got to say it's absolutely spot on. It's never let us down and basically it does everything we need it to do as an online diary. Thank you so much guys for making this available for us to use.
❤ Rob Linden
You're such a star, and now I feel guilty that your company won't be making money out of us. I have to say that that is the first helpline email from a company where I have ever felt that the operator had actualy listened to the question. A star…… as I said!!
❤ Jen Wade
An amazing app for my schedule. I'm in a nursing program and they use this app and its works amazingly well!
❤ Zach
So far, we are using a shared calendar in Outlook. However, your tool is much better in terms of usability and visibility… I successfully convinced our upper management team to implement your TeamUp scheduling tool and just subscribed to your annual premium plan.
❤ Fred Langenbeck
I LOVE attaching pdf files; this makes communicating with our contractors so much easier! I upload their work orders and boom, done. I've shared a read-only link with all of them so they can access the calendar anytime to view the workload for the day, week, month, etc.
❤ Nicole Salwinski
First of all, I wanted to say a huge thank you for the Teamup platform. I use it day-in, day-out for our business and have been doing so for nearly three years now. It has massively increased our efficiency and just makes the whole job so much easier. In a nutshell, I work as the 'Service Coordinator' for the Australian service department of Moffat, a commercial catering equipment business, and am responsible for the coordination of breakdown jobs on our equipment out in the field.
❤ Daniel Finney
Just want to say how great TeamUp has been for Ram Iron & Metal Inc. We use it for all incoming and outgoing loads coming into our 3 facilities. It keeps everyone on top of what is going on and what to expect for the day ahead!!!
❤ Peter Racco
Let me begin by stating how Happy I am to have found Teamup during my search. It is much easier to implement (Sign-In not required) and is more elegant than Google Calendar. Very Well Done! You are indeed a very helpful support center. May I add that this is a rare find these days. Awesome Product, Site, and Support.
❤ Ken Lizotte
The Teamup calendar has made us more efficient in our delivery system. The salesmen no longer have to call the store to check on the status of a delivery or who delivered it. It's right at the touch of their phone, and they have an answer for the customer right away.
❤ Brian Kelly
My team and I use TeamUp for scheduling our seamstress' customer appointments and it works great!
❤ Tami Parks
I have just started using Teamup to help organise availability, rehearsals and gigs for a Soul/Funk band that I play drums for in Northwest England. We are all very happy with the functionality, layout, colour coding and different views that it offers. So firstly, thanks for designing such a useful app.
❤ Andrew Watson
My staff really love this utility.
❤ Jordan Branscombe
I am very happy to have stumbled upon your product as it seems to solve many of our issues nicely.
(After an issue was resolved) You guys are brilliant. Seriously! This was a super fast reaction on a productive platform. You impress me a lot.
❤ Simon Kufferath
I created a free calendar for my team, and it's doing everything we need it to do. It's actually been pretty much ideal.
❤ Chuck Hall
I have been using Team up for awhile now (two years I think) And so far it has been great and I have gotten a few of our other divisions to use it as well.
❤ Ian Smith
We love your program and have used it for our business for several years now.
❤ Patty Butler
This email was so helpful that it convinced the CEO to move forward and sign up. We love it so much already! Such a game changer. Thank you so much!
❤ Megan Gohr
We use your online diary as a very vital part of our business. We love it and are very happy clients of yours.
❤ Bronwen Robb
THANK YOU. Your reply is both prompt and perfectly helpful, and I'm grateful.
Excellent, thank you for your helpful responses! I chose to go with your app vs the other I was considering for my team because of your timely and extensive support!
❤ Amelia Nemzer
Teamup continues to be a critical part of our operation here at Chicago Yacht Works, and we are constantly looking for ways to help integrate it even further. 
❤ Jonathan Paige
I've been using the Teamup calendar for the past week, and the calendar is nearly a perfect solution for our clinic. I use Google Calendar and Outlook, but Teamup, by far, is much more intuitive for me as a front-end user.
❤ Tracy Slimp
I really LOVE this app. Its so easy to use and awesome!!!
❤ Jasmine Mundy
I administer my rowing club's TeamUp account (we have a Plus account), and firstly we've found it excellent since we adopted it last year. We used to use a shared Google calendar which was a nightmare, but TeamUp has proved easy to use and reliable.
❤ James Geldart
I want to thank the team for creating such a wonderful and easy to use application. Teamup calendar was recommended for us in Nigeria by our colleagues in South Africa. It was being used for their Transport booking system. The same transport system is being used here in Nigeria for a pool of 21 drivers.
❤ Damilola I.
Oh my gosh! This is the most amazing group calendar I've ever used in my life!
❤ Robert Ike
I recently had a problem with the app, but after a very quick response from the developers, they have helped make the app great again! I've been using this app for nearly a year now, and has made scheduling jobs so simple. Would definitely recommend.
❤ Steve Ainscough
Love the product by the way. We have a NFP community that shares one calendar…so simple and easy
❤ Joel Levin
Want to let you know love your product, we use it in our pet sitting business as a scheduling tool for our sitters.
❤ Susan Tribble
We have been using it for almost 3 years now, and it has made our business so much more organized. We are a small electrical contractor, and with each of the guys having their own color and link, they are able to see exactly what needs to be done in a given day. New jobs are put in without effort, and keeps everyone on the right track.
❤ Lydia Edgar
I LOVE your product! It is amazing, thank you.
❤ Marni Chediak
We recently subcribed to your service with Premium plan. We think your solution is very usefull and user friendly, fitting to our current needs.
❤ Leonardo Saccardi
I am the administrator for Children's Clinic East. We have two active TeamUp calendars. We really like your product and appreciate the support it lends to our team communication.
❤ Vicki Smith
I cannot praise TeamUp highly enough, it is a life saver!
❤ Kate Mallatratt
Great, thanks so much for the info! I purchased the Premium calendar today and we'll see how the initial 50 go for now! I sent it out to everyone today and my expeditor has gotten even more positive feedback from all the extra people we sent it to! Everyone wants to know how I found you and I have to be honest that it was a lucky app search! My expeditor also has his own construction company on the side and he's seriously considering purchasing a calendar set up for his personal business as well! He's a 50+ years old lifetime construction worker and he's been telling everyone that if he can figure out this calendar in the 2 minutes it took him to look at, anyone can!
❤ Karyn Beyer
I currently use TeamUp for my family scheduling – my husband and I both really love it. I also run a business and would like to set up a TeamUp calendar for my team.
❤ Bianca Plunkett
I must say how thoroughly impressed I am with your calendar and all of its features. I had originally looked at Google calendar, but yours is far more intuitive and more resourceful.
❤ Stewart Archibald
I cannot praise TeamUp highly enough, it is a life saver!
❤ Kate Mallatratt
Me and my group use this constantly for schedueling board games and what not. We can input busy days and share it all on one calendar.
❤ Jessica Fennessey
I want to give PRAISE! My mother has Alzheimers. We have to keep up with her caregivers and make notes on her welfare. Teamup has made this difficult diagnosis much easier to deal with! I sang your praises on Facebook a few years ago! I think every Neurologist or Alzheimers support care group should be made aware of the benefits of your calendar to track care, medical notes etc.
❤ Laurie Laville
This is my callendar (and my life 🙂 , so don't erase it).
❤ L. Pinto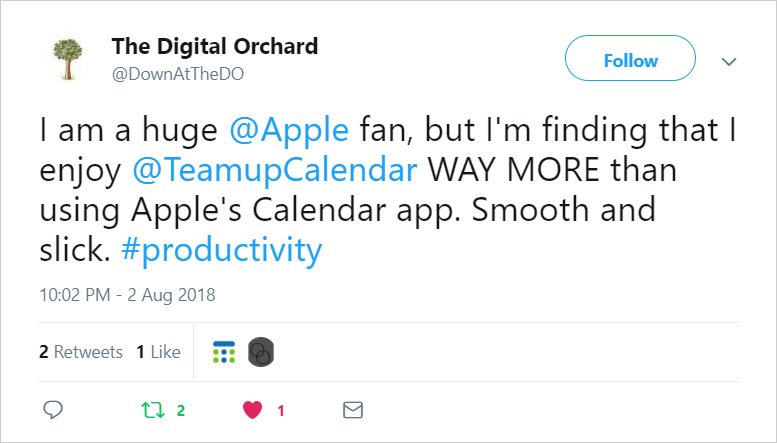 I really love the app, it's been the first calendar app to make me switch to digital from the classic diary.
❤ Eva Jäger
First, I would like to say that our company loves using TeamUp for scheduling all our providers and clients! It is incredibly easy to use and makes scheduling a LOT easier!
❤ Matthew J.
I just want you guys to know, your software here, is utterly impressive. As a president of a fraternal organization trying to bring organization to multi paper calendar situation, this software is so simple yet so powerful. And even comes with website embedding options? Just want to give you guys a shout out. I've been searching the globe for something like this and stumbled on it today.
❤ Adimyst Kingfisher
Superb app. well done. clean and effective.
❤ Anil Lalwani
LOVE LOVE LOVE your calendar! I'm using your Premium Level calendar on this site: https://www.columbussquaredance.com. And it's doing *everything* I want it to do. Hell, it's doing things I didn't even *know* it could do.
❤ Ray
This has been a three year project to finally roll out individual Teamup keys! Management and I are very excited to see this happen! We love your product!
❤ Bill S.
Have recently discovered your calendar after getting fed up with being google-ized! Works so well for posting calender on our website and booking rooms.
❤ Nigel
As an administrative assistant, this app allows me to easily coordinate and keep an updated schedule for my boss as she is on the go without multiple communications. She can easily open and see a color coded calender. Best ever!
❤ Amber Hawkins
we've been using this calendar system for a couple of weeks and it has done wonders for our business. We use this as a way to keep up with our appointments and their progression because the information stays centralized and accessible to all of our employees easily.
❤ Alayzia R., Administrative Coordinator in Solar Energy Industry
I have been using the TeamUp platform for a few months now and find it extremely useful, I am glad I chose this solution for our calendar needs.
❤ a client from the luxury industry'
You have created a fabulous platform that has saved our group's hide! we've been searching for a group calendar that didn't require a username and password (many of our members are senior citizens).
❤ Craig Hiatt
I use the Teamup calendar for the Behavioral Health Agency i manage. We LOVE it. It has made scheduling appointments and Transportation super easy.
❤ Renee Rouse
LOVE LOVE LOVE this calendar, it has made my life so much easier with my staff. I researched and searched SO MANY….this one is by far the best for my needs.
❤ Beth Cairns
We currently use several free and one subscription calendars from Teamup. In my humble opinion, Teamup is the best all-round solution for its genre on the web.
❤ John Dorrough
Your scheduling system is perfect for political campaigns. We looked high and low for a decent scheduling system and this is the first one that has come close to what we need.
❤ Joel Leonard, Campaign Manager
TeamUp is the best app we use, its completly changed how we run our buisness. It's simply outstanding.
❤ Rob Dipple
I do want to thank you and the whole team over there – I've been using Teamup to manage my laundry pick up and delivery business's schedule, and it has been such an integral part of my operations for the past three years, from having some days with no customers to having almost 30 stops a night!
❤ Susan B.
We use Teamup as overall team calendar of events across multiple teams. I like how it's easy to share.
❤ Todd Good, IBM
Your calendar is the only one I've found that has a team function that is not only usable, but extremely simple to set up! I've tried to get someone at Google Calendar to pay attention to the trouble I've had with their app, but it falls on deaf ears.
❤ Bert Wylen
Just want to say that we are already loving Team Up and how it is helping our companies. The ability for multiple calendars, the numerous color options, and the sleek design is a big hit with our team. One of my bosses already says he is less stressed out because of how great the new calendar is.
❤ Jason Hays
We love using Teamup for schedule Programs, Events and meetings of Minister and we can co-ordinate between minister and office without any inconvenience.
❤ Abhijith, Office of Minister for Co-operation, Tourism & Devaswoms, Government of Kerala, India
One of the single greatest apps ever produced. Has completly changed the way we plan and strategise. Long live Teamup
❤ Rob Dipple
Aloha, I love your calendar! Its the best I've found yet. Im currently using the free plan – which btw is just awesome. I love it. And am so grateful that its free so Im able to REALLY get to use it and see how and if it would work with what I need it for. It'd be hard to really get a good feel for it with just 3 days as most other options are. Ive tried a lot, and love yours the best. Thank you SO much for such a great product. It's SO handy being able to access it from any computer or smart device. I use your calendar ALL the time throughout my week. I run a kids program so keeping track of my staff and activities/field trip days, etc, are a must and your Calendar has been THE BEST!!
❤ Mele McPherson, Hawaii
First of all, want to say how fabulous your product is. I recommend it to everyone! It's so amazingly versatile.
❤ Delia Gillen, Technology Librarian
Teamup beautifully meets our needs to coordinate the work shifts for the volunteer cashiers at the non-profit Ashland Art Center in Ashland, Oregon. Thank you so much for your program, and for your generosity in making a free version available.
❤ Jim Burke
Great product and I love the way your calendar works and displays.
❤ Sergio Georgi
This calendar is awesome and is going to change the game when I give it to the team. ☺
❤ Christi Krizman
First and foremost, I am happy to contact you to let you know that since our Organization (CARE) has launched its Teamup Calendar, it has been a franc success! We've received only positive feedbacks from our colleagues over the world. We have been able to centralized our different calendars (mainly deployments and external opportunities) into a user-friendly place, and this is great!
❤ Nathalie Carminati
We are using your calendar for our group of volunteer lock keepers on the historic English canals, having had problems in trying to share the Google calendar. Your calendar is so simple to use, yet very professional and comprehensive, so thank you for making it available for groups like us.
❤ Clive Heaton
Just wanted to let you know that the print out for the monthly calendars with bigger font looks great. Thanks for always working and improving.
❤ Matt Curran, USA
The ability to scroll down for each week is very helpful. I'm really pleased that you actually listened to people and fixed something quickly. I don't know many companies that do that.
❤ Sean Remel
Brilliant. I use it [the app] in conjunction with the windows pc version, to enable our members to book their own time-slots .
❤ John Garnham
I have put TeamUp into use for our Manager, Duty Manager, Receptionists (and myself as the Administrator), and everyone is very happy with our getting into the 21st century at last (from our old paper-based system).
❤ Joan Martin
Our team LOVES the TeamUp calendar. It was a really good improvement in the management of the appointments in our veterinary clinic since we are using it. It's such a great tool and it's so well crafted!
❤ Pedro Ramalho
Extremely helpful and thanks for having such a great email help. So often it's hard to get a hold of anyone and you guys have been great.
❤ Stephanie Klimek
I discovered your work and I'm a great fan ! I'm now working on migrating a big community driven Google Agenda aggregated calendar to your product.
❤ Nicolas Vives
I work for a local Sheriff office as a jailer. Each shift is responsible for their on call schedules. I am the Corpral on our shift as one of the shift susupervisors it is my responsibility to keep up our shift schedules. Team UP calender fit perfect with what I needed. Every shift member can keep up with their schedule on their phone. I track, sick days, training, on calls, vacation days. It is a wonderful product.
❤ Keith
I love the simplicity of your calendar application and am currently using the free version for tenants of an office building to book the joint conference room. Super impressed with your calendar and customer service.
❤ Irene, USA
We at AEC are currently using a teamup calendar to organize our work schedule and I really enjoy the product, I like the product so much we just got a premium membership!
❤ Matthew Barrett, Canada
I have autisum and adhd with 24 hour care this app give me independance and routine this app is out of this world for people with autisum or people who like routine. Thanks.
❤ Jonathan 📔 Google Play Rev
Our family recently started using your App and we love it. It has truly changed our life. We are now able to see what sport or other activities our kids have and what time the games are. We can also share with our nanny when one of us is out for work at night and when we are travelling.
❤ Kristina K., Australia
I am a member of a 500-people collaboration of physicists who all together have built and are running the largest ever cosmic ray detector in the world, extending over 3000 km2, in Argentina… Before discovering you, the superimposition of meetings or the confusion on dates and times were the order of the day. Now, thanks to your calendar, everything is well-organized. The very best feature for us is certainly the possibility for each of us to see the agenda in one's local time, from California to Australia. You have no idea of how many times, before you, we mixed CET with UTC, or with the different USA time zones. All now is naturally solved, and no one has excuses anymore for missing a phone call or a meeting.
❤ Piera Luisa Ghia, The Pierre Auger Observatory, Argentina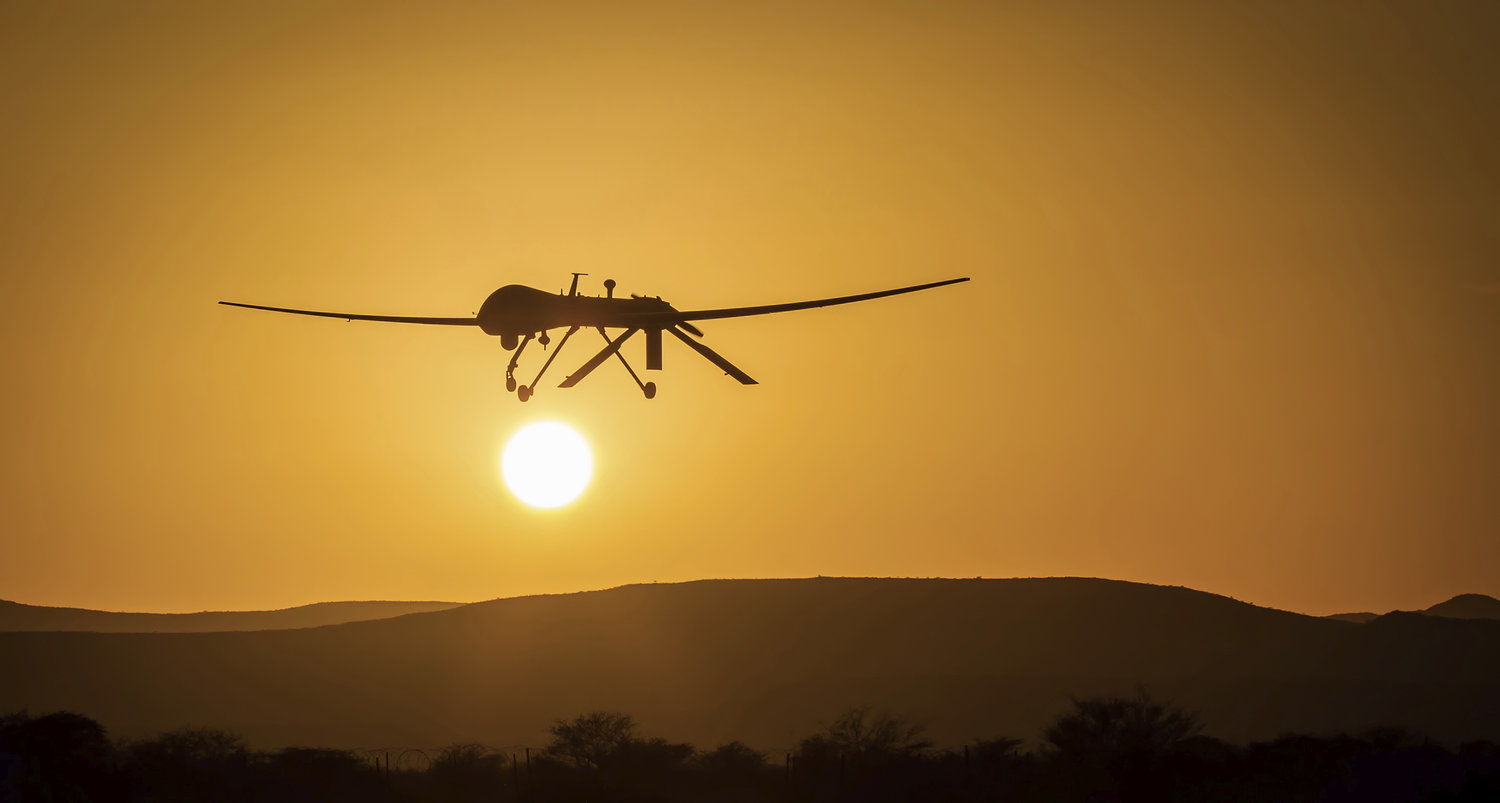 We are huge fans… have been with you now for years. We were early adopters of Teamup under another company of ours, and now near all of our network uses Teamup. Bottom line, your product brings about increased efficiencies (i.e. time, communication, integration). Keep it up….
❤ Dennis Kelly, USA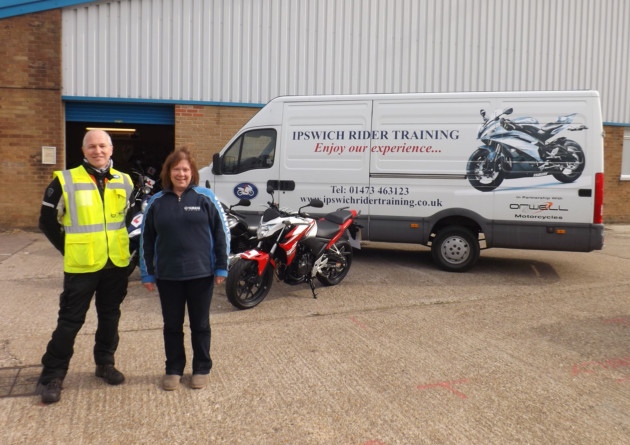 What we like best about Teamup is the ease of use – no training is required as its intuitive and the clean interface provides for a clean presentation. We have a team of 12 people and each has a unique colour. This means that at a glance visual awareness of scheduled is always available. Can't do without this brilliant product!
❤ Graham Carey, Ipswich Rider Training
Let me start by saying "thank you" for providing a product that works beyond expectations and fits our needs perfectly. As a Boy Scout troop we have tried endless online calendars and all without success until we discovered your product. We have been so thoroughly pleased that we promote your product every chance we get to other Scouting units.
❤ Matt, Scoutmaster, U.S.A.
Our fire department has 3 shifts with various training and public appearances. TeamUp allows everyone to view their own shift or all shifts, be aware of who will be out for training, and any city events planned where our firefighters will have to make an appearance. They love it! As the Executive Asst. in charge of the calendar, I love how user-friendly it is, especially with recurring events. We have also saved a ton of money by not having to print up paper calendars, which were never up-to-date. You've made my life SOOOO much easier! It even earned me "brownie points" with my chief!
❤ Renae, U.S.A.
We switched from Outlook to Teamup about 2 months ago and have heard nothing but excellent feedback from our employees and clients alike!
❤ Lindsey Bunnell
First of all this product is absolutely awesome and I am so glad that I have come across it.
❤ Andy Clegg, England
Hola, Just upgraded and paid for Plus Plan. Excellent program! And perfect for our numerous lodges and their bookings.
❤ Gregory Rahe, Mexico
We love the simplicity of it! It's so user friendly and easy to understand.
❤ Natacha Brisson, TVBL, Canada
I LOVE your calendar!!! Beats google HANDS DOWN!!
❤ Sandi, USA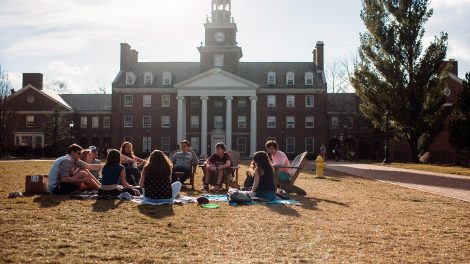 One big plus for my needs which is not available on other products such as Google Calendar or Outlook is that the color of each sub-calendar stays the same regardless who views it.
❤ Alexander Owens, Lafayette College, USA
My little law firm has been using your on-line calendar for a couple of years and we love it. I am thinking of upgrading to the paid version, just to put some money in your pocket for a good product. We don't need the features that come with the paid version, though. Just want to say "thanks."
❤ Lawrence R. Jensen, Attorney at Law
I have to say you guys are awesome.
❤ R Anderson
I love this app alot! It helps me and my business partner to organise our appointment well!
❤ Shirlyn Ma
Just want to say big THANK YOU, the room booking tool really worked very well, saved us a lot of time and energy. Thank you so much for your patience and continuous support throughout, we really appreciate your great help.
❤ Di Dai, World Economic Forum
Yesterday I tried your calendar solution for the first time and what can I say, I really do like your calendar web page. It is the best one I have tried so far! I love that you can customize it, that it is online, that you have a great selection of colours and it can be quite easy to set up. I like that it will adjust its size to fully display all activity on that day (not just hide stuff like outlook does). I also like that that you have a good selection of Day, Month, Year periods to be able to get the view you need.
❤ Paul Stone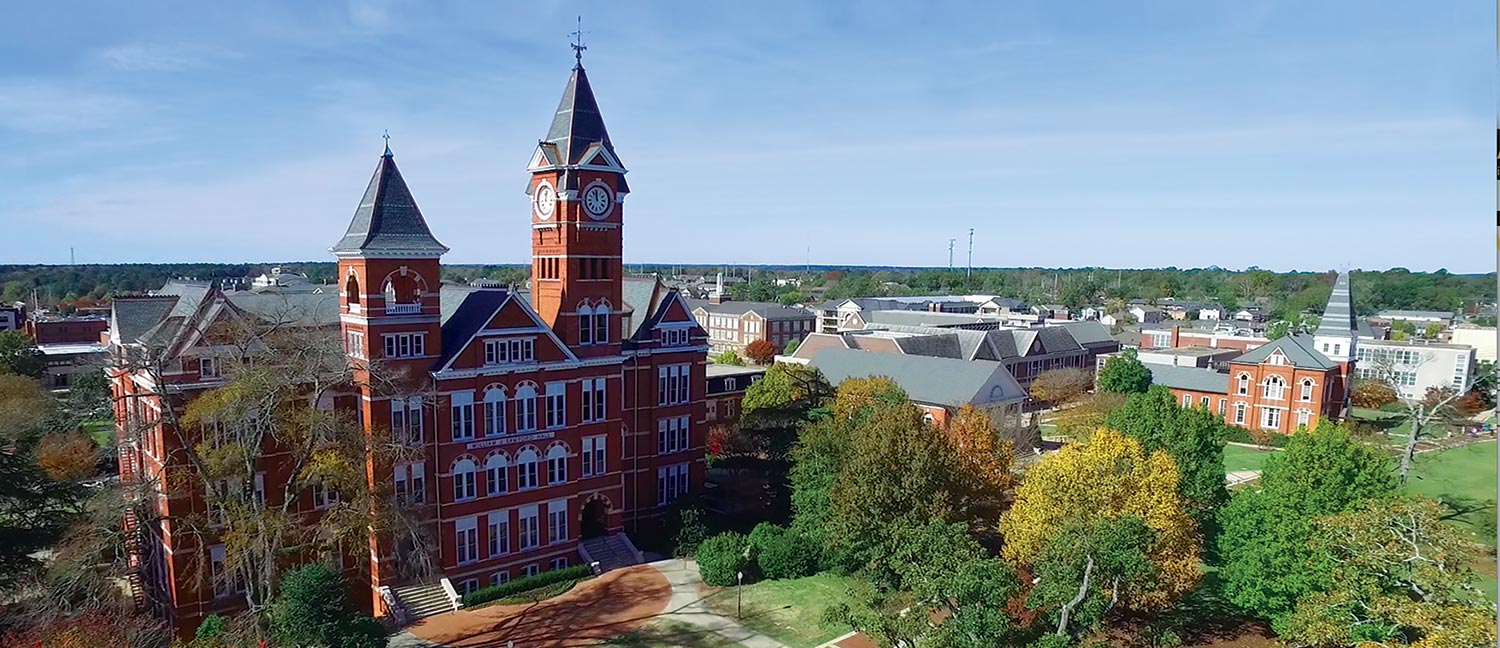 With Teamup, unlimited users can access is the best. As transparency is always an issue at the university level it is nice that individuals do not need to login to see what is available at a given time.
❤ Peter Panizzi, Auburn University, USA
I love using Teamup. It is a great tool to use for our daily lives in our family.
❤ Robert Fulton
BEFORE i came across Teamup, Ive tried printing calendars, customizing calendars on Xcel & Google Sheets, none of which really had quite the ease of accessibility, functionality or organization. It was through researching and simply just trying out "other options" online that I came across Teamup, and have been grateful ever since. Another great feature would be the ability to create reminder alerts sent to either my email or phone? that would be AMAZING!! Thank you so much for being open to my feedback. Even if you dont add any of these features Ive requested, your Calendar is still the best Ive found so THANK YOU!!!
❤ Mele McPherson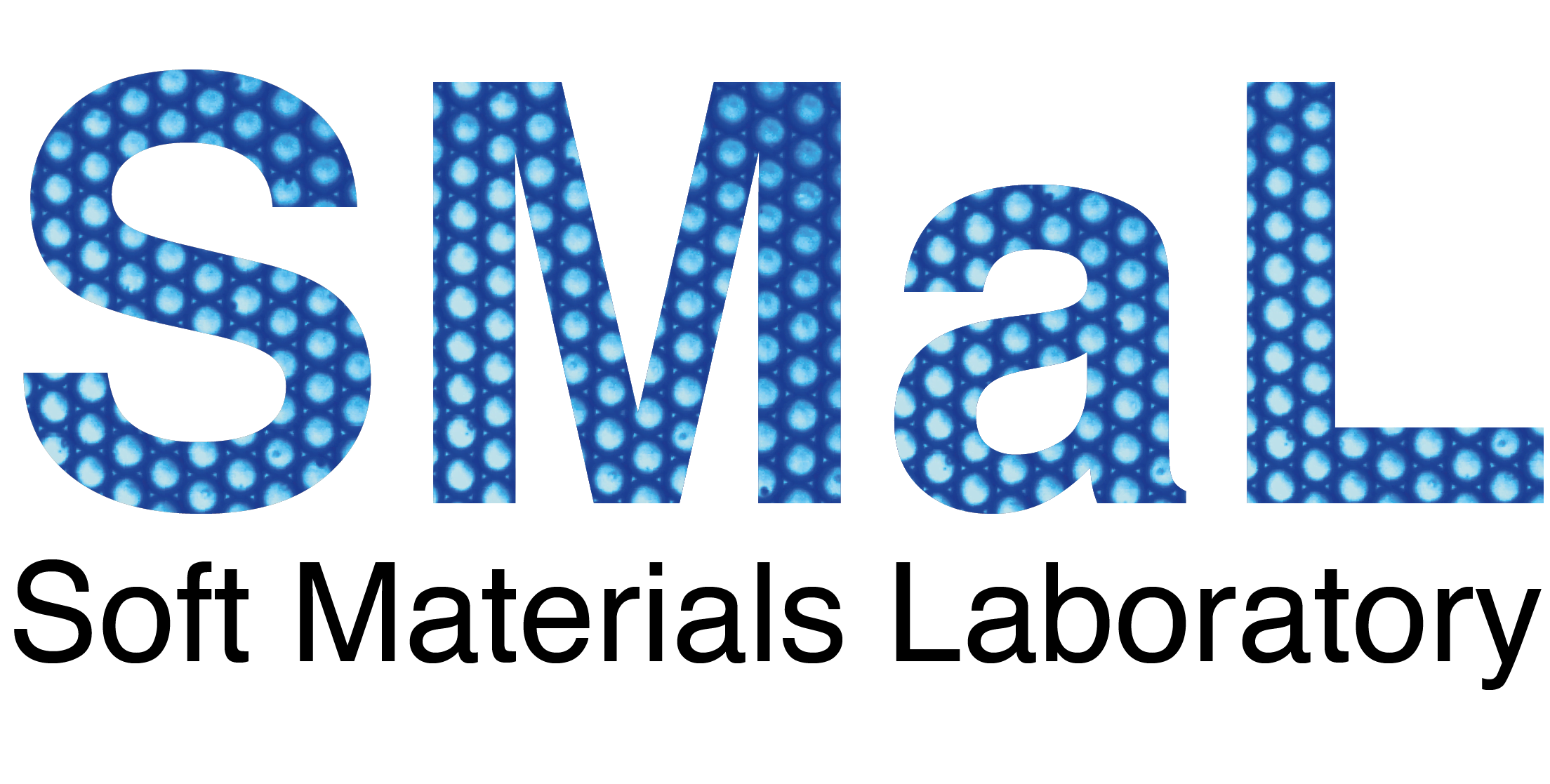 First of all, thanks a lot for your awesome calendar application! We use it as a booking system for our equipment and we are super happy with it!
❤ Mathias Steinacher, PhD student
You guys are always updating things and making them better, Buying your product was the best money we ever spend!!!!!! WE LOVE YOU GUYS! Keep Rocking 🙂
❤ Uriah S., U.S.A.
We are currently using the free version to trial and see great value in many areas of the business with this product: Crew Scheduling, Shipping logistics, contractor planning, accommodation bookings etc. Basically improving our communication across all levels and eliminate the Excel based calendar planners we are using currently (and looking to replace).
❤ Terry, Area Manager at a medium sized Salmon Farming company, Canada
The "About" feature is the most helpful. I can always change it and this is a feature most calendars do not have and Teamup just NAILED IT!
❤ Ervin
The best thing is how easy it is to share the calendar with others. No password, just a link.
❤ Terje Pettersen, Lebesby Kommune, Norway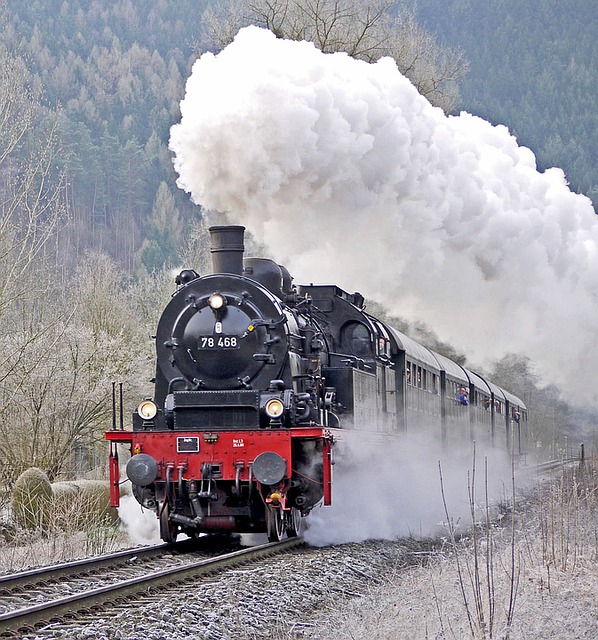 Thank you for providing something that works perfectly for my needs. I coordinate volunteers for steam locomotive. We require people to volunteer on trips or events that we provide.
❤ Mark Grant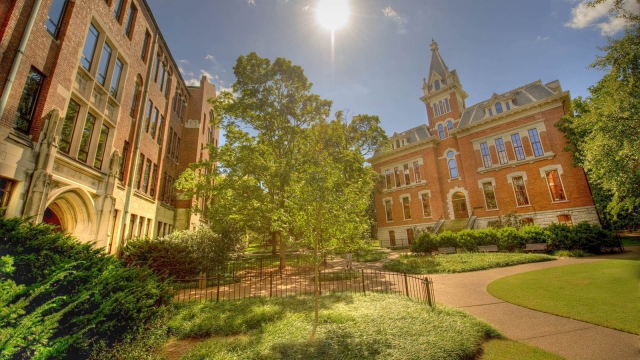 I work at Rosebank STEM School and for the past few weeks I have been research various calendar apps and platforms, trying to find the perfect calendar for collaborative curriculum planning within our school. After playing around with Teamup for a couple of days now, I am convinced that Teamup is the perfect solution for our school.
❤ Carver Elliott Lee, U.S.A.
I love everything on the mobile version for my iPhone, and I love everything for my desktop version for my windows computer.
❤ Chase Kellis
We love using Teamup for our companies Events and meetings, and we would love to start using it for staff planning as well.
❤ Sieghart Michielsen, China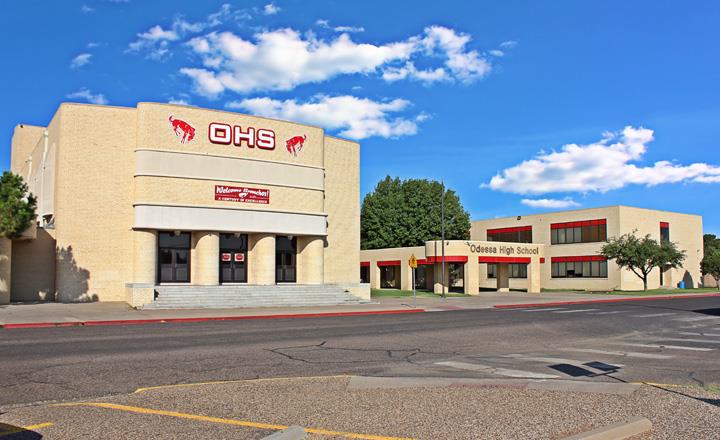 Your web based calendar is what I've been looking for for 15 years.
❤ Steven G. Dojahn M. Ed., U.S.A.

Just to tell you that I like teamup and I am using it every single day for my staff planning.
❤ Benjamin Lhopitault, France
I just want to say that we LOVE using TeamUp. We're a small nonprofit, and it has been so helpful and convenient for us to use TeamUp instead of the old-fashion appointment books! I am always recommending TeamUp to others. Thank you for creating, maintaining, and improving your amazing product!
❤ Katina Prescott, U.S.A.
I work for an aquatics company and have created subcalendars for my swimming lessons instructors to schedule their individual swim lessons. They are loving the ease of the app, too! It has really allowed myself and them to stay organized and more on top of their schedules. I am extremely pleased with the functionality of the system so far (especially the capabilities that are available for free users) and intend on beginning to pay for more functions when I get to that point. Thank you for creating something to compete with google calendar!
❤ Brent Labat, U.S.A.
This product has helped us stay organized immensely!
❤ Ty, U.S.A.
We have been using your software for about three years now, and it has really helped us streamline our day to day scheduling. There really is not a program out there like yours. So thank you.
❤ Sagen P.
I love the calendar! It is great and very useful. We have been looking for something like this for years.
❤ Crystal C.
This calendar is a dream. So easy to use and beautiful to look at. This puts Google Calendar to shame! I'm so glad I found this! I'll be sure to spread the word.
❤ Jeffrey, USA
Hi! I'm Peter and I'm 15 years old student from Poland, Ostrołęka. In my class I have a function of class representative. I wanted to make my class work better, learn more effectively. I thought I can find a cloud calendar that everyone could use. Me and my class have used our Teamup since September and we really love it! Now everyone is more organised, we don't forget about any tests, exams etc. I just wanted to say thank you for letting us to be more organised and better students. With love from Poland.
❤ Peter, Poland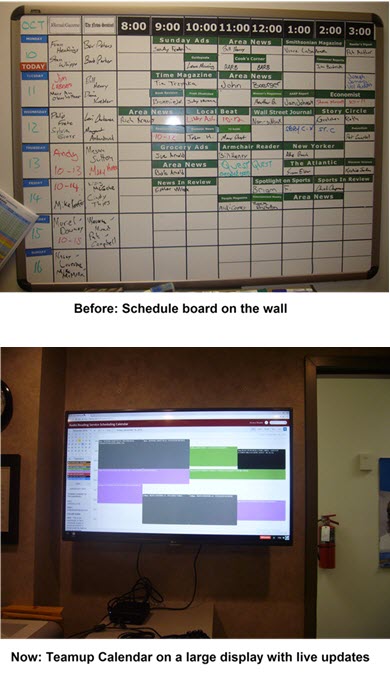 THANK YOU!!! You have made our lives tons easier with your online calendar! We broadcast the reading of local news and other information to thousands of people who are not able to read independently. Scheduling 130 volunteers, their programs, Recorded Reads, Live Reads, recording times, recording rooms, Subs, anomalies like, "Next week, can I come in Tuesday at 1pm instead of Monday at 10:00am?" just got easier! On of my staff has corresponded with you — but wanted to let you know WE LOVE TEAMUP!]
❤ Georgean, Manager, Audio Reading Service at the Allen County Public Library, U.S.A.
I've used Teamup twice now in very critical times of need. The first time was June 2014 when I worked at an animal shelter. We had 9 puppies born and needed to hand feed them and medicate them. This meant we needed to rely on many hands! I used Teamup and it worked great! Being a nonprofit and not having much money, it was a great tool. I'm now working in a hospital and in charge of the schedule. I'd like it to be self scheduled and flexible, so again I came back to Teamup. Thank you for making life easy!
❤ Carole Jeske, USA
It is a wonderful tool that enables us in managing our business efficiently. The support team is also very brilliant and respond to issues quickly … So Big Well Done to all of you!!!
❤ Eddie, Australia
I think Teamup is a great product and I love how easy it is to share the calendar. I researched several scheduling apps based on price, ease of use, and access for iPhone and Android users and your product was the best option without question. Nothing else came close. I love Google products and I use that calendar for my personal scheduling. However, unless everyone who can edit the calendar understands the share settings, the entire store knows an employee's life plans….which is one reason we needed a separate calendar. Teamup has solved a lot of issues. I've been spreading the word to others who work in an ofgice with experienced tech people and with those who struggle with technology who need an inexpensive, intuitive calendar. This is best solution for our small business.
❤ Janet, U.S.A.
I was googling the pros and cons of MS v. Google cloud solutions for group shared calendars when I came across Teamup, I liked what I read and within 30 mins I had abandoned the One Drive versus Google Calendar research and had a test team calendar up and running using the free version you offer. I expect to upgrade in due course. The key was finding a solution which allowed users remote access to a calendar without them needing to have their own company email account and login. Staff are loving it, even those with little enthusiasm for tec.
❤ Michael L., UK
You guys are great! We love your product and your attention to our feedback! Truly impressive the way you operate!
❤ Joe, U.S.A.
I am just writing to say thank you and Hoooooraaaay for the Android app. I have been loving TeamUp Calendar so much. Thank you for building this wonderful app.
❤ Joy, U.S.A.

Please know that your calendar has become an instrumental part of our most important processes. We are a Mechanical Contracting company specializing in Commercial HVACR service. We use the calendar to dispatch our technicians. We add the events to the calendar and the techs go to the calendar from the IPAD minis to get their work assignments. We also have subcontractors in other states and email the calendar events to them to dispatch work orders.
❤ Debbie, USA
We are a k-12 School District and we are using your TeamUp Calendars to schedule events to ultimately change and shape our school positively. We utilize the site to keep everyone up to date with events that are occurring such as College Rep Visits, College Tours, Instant Decision Days, and other Relative events. It has been great to utilize the site as it is easy to share and make adjustments.
❤ Olatunde, U.S.A.
We tried using Teamup for our event (conference) in July and it worked really well, especially in the planning. It is very easy to set up appointments and for people to understand the system even when not so tech-savvy. It was very easy to just send the link to external suppliers so they could see when what was planned. Our next event is coming up in November and we will definitely use Teamup again, the online system is so much user friendlier and professional than the old fashioned excel sheets that we used before!
❤ Gertrude, Belgium

I just wanted to drop you a note thanking you for your product. I work for a small non-profit Audio Reading Service for the blind with a very tight budget. We have about 120 volunteers and an ever-changing schedule that needs to be maintained. Up until now we used erasable white boards to track everything. What a nightmare that was becoming. I looked at dozens of online options and by far yours was the most intuitive and flexible to do exactly what we needed. The fact that it's free and without advertisements makes it that much better.
An excellent product with generous free options that I will recommend to many people.
❤ Mark, U.S.
We use the (Teamup) diary to manage our engineers time. In the past we had problems with the engineers changing their own appointments as we used built in calendars in outlook. We then used an excel spread sheet which was ok but we kept having corruption with it and also we couldn't see the diary out of the office on the road. We looked at some other company's online offering this but they didn't have the features you guys offer or they had to many features which we didn't need out weighing the cost. So Teamup fits our needs very well.
❤ Aaron, UK

We are a removals company (3 trucks) and we use Teamup for scheduling our trucks and crews. Couple of things we'd like to see:
– We would love it though if we could add custom fields, as currently we have to add quite a bit of data into each field.
– We would also like to be able to use templates (especially in the notes field).
But, even as it is now, Teamup is pretty awesome and we really appreciate it.
❤ Karl, New Zealand
I've been using Teamup for years now, had tried many online calendar but Teamup is the easiest to use, meets my need for coordination of teams, schedule promotions, arranging coverage of the event and updates the activity information of each individual in the team. Many improvements made by Teamup, increasingly better and more reliable.
❤ Yudika Nababan, Indonesia
Fantastic team calendar We have been using this calendar for the last 18 months to manage the maintenance engineering and operations in a large skyscraper. It's fantastic, convenient, and instantaneous. The app is just the icing on the cake. Highly recommended.
❤ Anonymous on Google Play
We are a football club with 14 teams and 14 assistants that are responsible to manage about 300 football games a year and we have actually brought order to the entire organization with you free of charge option calendar. We are able to manage the exercise units of 170 kids here in Germany! Thank you
❤ Ingo, Germany
I just wanted to thank you guys for providing such an amazing calendar. It is much appreciated and has changed the way our team has been communicating amongst ourselves as well as the public. Your app deserves more publicity and I will begin to spread the word to those I know in hope that one day more organizations can take notice and use it. I am unsure if my organization will be purchasing the calendar, but i am really pushing that they do so we may utilize it to its full capacity.
❤ Olatunde, College Advisor, U.S.
Teamup is EXACTLY what I've been looking for. It's as slick as whale snot on a door knob; cut-and-paste urls to access the calendar, no passwords, privileges, iCal, printing, free. I want my family to use Teamup so much that I even made for them a 2-minute video tutorial, and posted on youtube.
❤ Jon, USA
I needed a calendar to be a hub for drinking water system trainings throughout Utah. We have about 7 different groups who want their training listed in a central calendar location so that they can send all people to one place, as well as look themselves to plan and prevent trainings scheduled for the same days. Teamup at first looked like the perfect solution because you can have separate calendars show in one place, but when I learned I could give a custom admin link to the managers of each group, I was amazed, as if the business-needs Gods had smiled upon me.
❤ Dyani Wood, Utah Division of Drinking Water, U.S.A.
I want to start by saying how useful Teamup has been for us in keeping our church calendar up to date. We used to have to generate PDFs every few months and update static web text, and every time there was any change it involved a lot of work to update everything. TeamUp has really streamlined this process and I love it.
❤ Deborah, USA
I have used Teamup since the first of the year and it has worked really well. I have right around 100 people from our 2 church campuses as a prayer calendar, which they can sign up for a day of year to pray for our ministry. We plan to repeat it in 2017.
❤ Jack, U.S.A.
I love how easy scheduling is; the color blocks are great, and the data entry is a snap. Most of all, I LOVE attaching pdf files; this makes communicating with our contractors so much easier! I upload their work orders and boom, done. I've shared a read-only link with all of them so they can access the calendar anytime to view the workload for the day, week, month, etc.
❤ Nicole, Sr. Warranty Service Coordinator
Thanks again for your wonderful product, I am so glad I found it, it has really helped us getting the tennis courts more efficiently used, and saved the members from coming to the club without getting a court.
❤ Hans, Norway
We are very satisfied with Teamup, hats off to the developer team! 🙂 It's easy to use, to configure and it has a clean interface.
❤ András G, Hungary
Your product is awesome! I've looked long and hard for something like this, that is so user friendly, yet so clever!
❤ John, USA
Kudos to Teamup for being the best calendar application for businesses. Thumbs up guys!
❤ John, Philippines
I am working for SPEED Program which is a USAID funded trade policy and economic development program. We are using your calendars for various purposes. One is to maintain an up to date listing of all the events we have running. We share this regularly with USAID and our partners in government and business so that they can see what is happening and take part in seminars, discussions and so on… Your calendar has revolutionized management of event and activity coordination among our team and enabled us to easily keep others up to date with what we are doing. It's the best thing I have found on the Net for a very long time. Thank you!
❤ Carrie D., Mozambique
We're a team spread out across Australia, and use Teamup to keep everyone updated with events taking place in major cities around the continent. Thank you for creating this platform for us.
❤ Daniel Chan, Australia
We have 1000 and growing members in our organization (USMES) which manages a cycling team, triathlon team, running team and adventure racing team. Our team is split up into regions around the world and each region has a calendar of local events and we have a few additional calendars of national events (for each of the team sports) which ID's our biggest events, and a calendar for our camps. We love the filtered viewing options and flexibility of TeamUp.
❤ Jim W., USA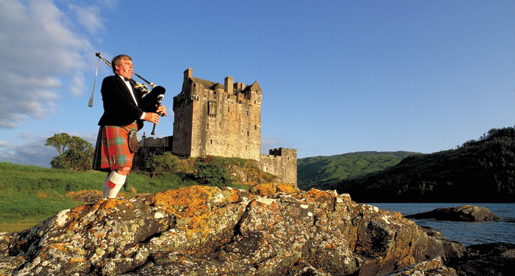 I had tried google calendar and tried several others but yours is just the right balance of features v simplicity and the fact that I can export to Lotus notes so that I get a notification is the cherry on top.
❤ Gary, Scotland
My two friends and i originally made our calendar 3 years ago just before the summer holidays. We wanted to know when each of us was available during the summer, so we could hang out. It worked perfectly for that, so we just kept using it. Now that we are done with high school, it has become the place we always can go back to – because we have documentet our life for 3 years!
❤ Signe, Denmark
Thanks! Looks great now! What a SUPER product!
❤ Kevin, U.S.A.
Using your calender for our small business and its great!
❤ Emily, Plan B Plumbing, Australia
First I would like to say that I think your product is truly deserving of the oft-poorly used word: AWESOME.
❤ Jim, IT Director, Hodgeman County Health Center, USA
Thank you for this product! It is a wonderful tool to have and to use. We have over 40 volunteers for our not for profit organization and there is no way that I could manage our schedule without Teamup!!
❤ Sallie W., USA
I LOVE TEAMUP CALENDAR! I have searched high and low for a similar service and can't find one as good as TeamUp. So, thank you all.
❤ D'yani, USA
We have struggled to find a calendar that works for our company and all of operations. This one is fabulous!
❤ Teresa, USA
We are very satisfied with TeamUp, hats off to the developer team! 🙂 It's easy to use, to configure and it has a clean interface.
❤ András, Hungary
I am very pleased to have found this for our local Hospice Residence. We have formed a volunteer team around a resident, and are trying to provide volunteer coverage for her every day, probably for several weeks. Your program will be perfect for letting everyone know which time slots are available.
❤ Alixe, Canada
First, let me say how happy we are with the TeamUp calendars. We have been looking for a long time for an online volunteer scheduler, and TeamUp really is everything we need!
❤ Marlies, Belgium
We really like your product. We use it for projects that we are bidding. The ability to add links of drawing files to the calendar is a great time saver. The new app works well also. Keep up the great work.
❤ Tim, UK
Your teamup calendar is the absolute best and most efficient calendar I have come across—and I have used everything from google calendars to even paid calendars. Thanks for providing such an awesome service.
❤ Jennifer, Director of Operations
Let me take this opportunity to congratulate your company on creating one of the most flexible programs of its kind that I have ever seen. And that is from someone who spent 25 years in the computer industry. We are using it to schedule visits to see one of our great friends who is in the hospital beginning his struggle to recover from a serious stoke and can only receive a limited number of visitors at a time. The only function I have not found in your program was the one which would magically schedule Rob out of bed, and walking and talking tomorrow.
❤ Norman
My family recently used the team up calendar to organise carers & family to look after my mum during her illness with cancer. Perhaps not what you had in mind when it was designed, but it was a very useful and I just wanted to say thanks.
❤ Philippa, UK
Congratulations on creating the simplest yet feature rich online calendar.
❤ H Rahimi
Great, everything seems to be just as I would hope. I am rather a dinosaur, started in IT in 1969 programming in Cobol and Fortran IV on IBM series 360 mainframes and retired 5 yrs ago and just do volunteer charity support now. Many things have changed so much, not least of all, the fact that people such as yourselves can develop and market very effective and useful software (perhaps I should say 'apps') and provide full featured, small scale versions free. A blessing for organisations such as ourselves. Not to mention good customer support (still far too rare in the industry). Thank you.
❤ Keith, UK
We love the Teamup and it has worked flawlessly for us in managing the scheduling of conference rooms.
❤ Andrew, USA
Thanks, and I love the calendar…it's great for bands trying to coordinate rehearsals, shows, etc.
❤ Mike, Musician
Dear Teamup, This is just to say thank you for such a brilliant calendar application and the fact that it can be embedded on websites and linked with other calendars that people already use like Google or outlook. Well done!
❤ Ade, UK
With teamup, I have created workgroup subcalendars with different access levels. My bosses and fellow team leaders LOVED it and I definitely gainedsome brownie points for introducing it! It is a huge improvement over using hardcopy calendars.
❤ Teck, Singapore
I recently found your calendar and really LOVE it! We use the calendar to schedule Overtime Availability. The staff are configured to have Modify-from-same-link, no details access.
❤ Josef, Lead Orthopedic Technologist
This was a HUGE help and I couldn't have organized things these past months without Teamup. Thank you so much for providing this service.
❤ Robin, Sweden
In the last 3 months I have tested hundreds of systems and I can tell you where you won us. Your system is so simple, that even the most illiterate persons can use it. I mean, the calendar can be used by everyone. And exactly this simplicity enabled easier acceptance by our users, including the transporters who were the hardest to get used to a system.
❤ Darko, Italy
We utilize Teamup to coordinate our middle school competitive cheer team's schedule. Our school is relatively new and last year was the first year that we actually had a competitive cheer team. Meaning, all of our scheduling and communication processes developed as we went forward. We found that good communication between coaching staff, parents and students was absolutely essential for coordinating cheer events and student transport for the team. We knew we had to find a calendar tool that would meet our needs. Just coordinating parent transportation for over twenty 12 and 13 year olds can become a nightmare and a source of frustration if everyone is not on the same page. Thus far, Teamup appears to meet our needs. Easily created, updated and shared – with multiple permission levels – Teamup has allowed us to centralize our schedule. The automatic event update notifications make it so simple to distribute calendar updates to all our families simultaneously. This reduces the amount of email traffic and face-to-face side bars the coaching staff must deal with from both students and parents. This frees them up to spend more time concentrating on teaching our cheer leaders the skills they need to perform at their best level and, more importantly, how to be safe. Previously, we were using Google Calendar but had issues with login problems like forgotten passwords, etc. With Teamup we simply send out a link and with one click our families have access to the calendar. Presently we have only utilized Teamup for a short while and we are just beginning our cheer program for this coming year but I have had several very positive comments regarding the calendar and venture to say that it will be a very valuable tool over the coming 2015-16 school year!
❤ Middle School Program Coordinator, USA
Thanks for your great product! We are using it to coordinate our phone meetings in the international Pierre Auger Collaboration.
❤ Michael, Germany
We currently are using the Teamup product as our master calendar. We use this product to help schedule and organize our moving crews. We have searched for a product like yours for quite some time. We really like your product.
❤ Josh, USA
We use TEAMUP to manage a team of global corporate event producers and related production teams. The notifications feature is an extremely useful addition. Thank you!
❤ Event service company, USA
I love this calendar and so do our contractors! It really helps us all stay on the same page!
❤ Ashley, Provider of installed storage buildings and garages
Your calendar has saved me and my instructors tons of time and aggravation trying to keep track of who is substituting or cancelling classes. Prior to using Teamup, I would literally be pulling my hair out with the dozens of emails I would get on a daily basis from my instructors. Now everyone goes to the calendar and we can see exactly what's going on with all the classes. Thank you so much for creating this valuable tool. I absolutely depend on it now. Hopefully, you'll keep it available for a long time.
❤ Group exercise coordinator
We're using it as a booking system for a car club. We have three cars shared among 13 households and TeamUp is brilliant for allowing us to manage bookings without any hassle or administration costs. Members just block out the times they want a car. The colour-coding's great because we can see at a glance which cars are in use and which are available. Thank you for this fantastic tool.
❤ Sandy, Ireland
I am using our Teamup Calendar to schedule the computer lab in our school. Teamup Calendar has been the perfect tool for taking our computer lab scheduling/signup into the 21st century. As the teacher librarian, I am in charge of the schedule. All of the administrative options for the calendar are perfect for my needs and it was easy to teach the teachers how to use. Thank you!!
❤ Library Media Specialist, USA
Teamup has dramatically reduced the amount of time we spend on our daily processing of staff requests and has opened a new door for accessibility to view this information too.
❤ Chad, Team Leader, USA
I use this calendar as a day off request tool for our management and leadership staff. We used to use the old giant paper desk calendar that would be crumpled and an eyesore after a couple months. I started this calendar, not knowing how it would work out, but it's been a great experience so far. I love this product. It is a great way to keep track of my team's requested days off and vacations.
❤ Assistant Manager, Multi-national corporation
I use your calendar to force my soon to be ex husband to communicate so we (me/him/2 teens and 1 youth) don't go crazy from last minute organizational misadventures. I love your calender/site. It gives me complete control over what goes on it… while still having multiple ways to share with others who are on a "need to know" basis but leaving them without the option to modify my efforts of make sense of the world.
❤ Kay, American in France
I use the calendar to schedule all my events each week and also allow my employees to see an un-editable version.
❤ Small business owner
Let me just say that I am very happy with my Teamup calendar and find it both aesthetically pleasing and user friendly!
❤ Nancy, USA
I am really enjoying using the calendar for my team of freelancers – it is working beautifully and has already saved a lot of time for us all.
❤ Prue, Australia
We are currently a customer of Teamup and a very happy one at that. Very well made product and so very helpful to us.
❤ Sonalin, UAE
I LOVE this calendar – has completely changed how we communicate as a team – just awesome!
❤ Natalie B., USA
We use Teamup to add events for club house rentals. This is the best Calendar I have ever used for our events, it is easy to use and not confusing at all and most importantly no bugs.
❤ President, Home Owners Association
Please share the fact that I LOVE this system. It has made me a "hit" with my co-workers because we are using different systems and couldn't share this information before.
❤ Catherine B., USA
I thought I'd set up a web service with a jQuery calendar or something like that … But then I ran into your application and I totally dropped that idea. I really like Teamup a lot, simple to use but yet impressive in its configuration and features!
❤ Nicklas, Sweden
'We use it' for the whole company to be aware of each persons movements on a day to day basis.
❤ Local sourcing manager, medium-sized company
'I use it' for all my group programs from youth to adults (disability service).
❤ Nonprofit organization program, coordinator, Australia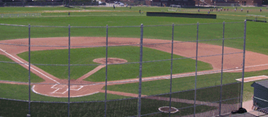 We use it to coordinate schedules of baseball teams (ages 8-14). Schedules include practices and games.
❤ President, Non-profit organization
I work for a small boutique music management company in Sydney Australia. We have been researching online calendars to use for a few bands that we are managing to make it easier to communicate upcoming PR activities, tours and meetings. I am really loving the Teamup product.
❤ Tamara, Australia
We have just evaluated several providers of online calendar functions and Teamup came out on top with its intuitive interface and different approach to how to share and handle the information via links.
❤ VP Marketing, Multinational Corporation
Fantastic!!!! The best online calendar I have found. Works perfectly. No glitches. Simple and easy… please dont change anything i love it!
❤ Small business administrator
THANK YOU! This calendar rocks, our whole office absolutely loves it. We are an architecture firm based in NYC.
❤ Mike, USA
We use it for scheduling band practices, scheduled gigs, band members out of town or unavailable, special events, etc.
❤ Coordinator, Band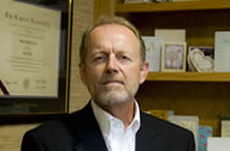 This is an outstanding calendar program. I was able to administer a conference room calendar among multiple locations with many people having none to some experience with computers. Several levels of introduction and this runs perfect. The adaptability of the permission levels and the general administrative tools are simple, logical and thorough. Thank you very much for an intuitive, professional and productive product.
❤ Michael C., Attorney at Law
We are a group of 15 people that own a sailboat down in the Caribbean through our corporation, Navigo, and are going to try the calendar as a means of keeping all informed as to the status of and who is aboard.
❤ George, USA
We are a sports team. We use the calendar to record our individual training efforts (using the colour coding system), forthcoming dates for competitions, and dates for team training / coaching.
We use these calendars every day and the instant visibility that is created is perfect for our work.
❤ Matt, Branch Manager
We use it as the public calendar for clients.
❤ CEO, Small business
We use Teamup to schedule about 40 volunteers for "supervising" duties at our collaborative workspace. It's all about open access and collaboration and Teamup really was the only solution for that approach. We can't and won't force people into some mandatory registration procedure. Thank you for developing such a useful and hassle free collaboration tool.
❤ Marco, Austria
Your swift response was much appreciated, and we are confident the Teamup calendar service will help us get better organized!
❤ Hunter, USA
I use Teamup to synchronise across pc tablet and phone without google prying. It is easy to use, reliable and I find it really useful. THANKYOU!!!
❤ Sole trader
I've been using teamup calendar for sharing my division business schedule since a few months, and it works really great.
❤ Plant Operations Manager, APAC Engineering & Manufacturing, Division of a MNC
We use Teamup for logging enquiries as they come in showing dates received. We change the status (colour) when we've replied and followed up, and again should an enquiry translate to a booking. We can then see at a glance what's happening.
❤ Managing Director, Small business
Great 'real world' calendaring solution you have 🙂 – love the access by url mechanism, much more flexible than accounts etc.
❤ Dean, Australia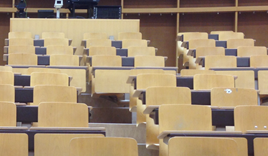 I love this calendar – I think it just eliminated one of my biggest headaches for this school year!
❤ Andi, USA
Started volunteering at a Rescue Horse Farm this past summer and the only way to know who was scheduled for what feedings on what days was a paper calendar posted in the barn. Needed something simple that everyone could access, any time and any where, without having to sign up for new email addresses or new accounts. Teamup Calendar was perfect!
❤ Steven, Volunteer, Non-profit organization
I'm using Teamup as an editorial calendar for our quarterly magazine.
❤ Communications Coordinator, Non-profit organization
Two of my friends and I attend two conferences each year and like to track what sessions we are all in, so we can maximize on the sessions attended. We also like to know where we are so we can also put in our social calendar during the time we're together. Teamup helped us this year to do that.
Your calendar has saved me and my instructors tons of time and aggravation trying to keep track of who is substituting or cancelling classes. Prior to using Teamup, I would literally be pulling my hair out with the dozens of emails I would get on a daily basis from my instructors. Now everyone goes to the calendar and we can see exactly what's going on with all the classes. Thank you so much for creating this valuable tool. I absolutely depend on it now. Hopefully, you'll keep it available for a long time.
❤ Group exercise coordinator
I use your calendar for my work from home job. I love it! Since implementing I have saved countless hours of working hours. It has well over 5 different areas of my business levels covered… This one calendar has served purposes for invoicing, payroll, appointment scheduling for multiple contractors, keeps from double booking, and serves moral boost for instant gradification. As well as overall team moral. Thank you so much!
❤ Paula, USA
We use it to keep track of staff schedules (including time off) and meetings.
❤ Librarian, Medium-sized company
We are using it as our bid calendar. Previously we were using a large dry erase board but with technology and telecommuting we needed something else.
❤ Project coordinator, Medium-sized company
To organise the volunteer rosta for our local pub.
❤ Committee member, Small business
Coordinating vacations among my team. Love how it's accessible anywhere and you just need the link. Multiple people can add to the calendar without logging in. Very user friendly.
❤ Manager, Medium-sized company
We use it to have a schedule for all planned meetings, for all board members.
❤ Board Chairman, Non-profit association
I use it to communicate with my sales team and post important dates and events.
❤ Sales Manager, Medium-sized company
We use it to schedule 4 therapy rooms rented out to about 25 therapists.
❤ Director, Small business
We use it to organize scedule for volunteers
❤ Concessions manager, Non-profit organization
Make team aware of training and meetings from our home office, up line directors and myself. I ask my team to post their party events and those things they wish to celebrate such as birthday, anniversary, Thirty-one anniversary so that we can all celebrate each other. I use the Team Up calendar to help me celebrate, encourage and reward my Thirty-one team. Thank you for this free service!
❤ Director, Direct sales organization
We found it very useful for scheduling our ems students for their ride along sessions. Each student gets their own link for the calendar and can schedule their ride time at either one of our two stations. It's great because they can access it from any computer or smartphone. It saves a ton of time manually scheduling them. We used to just use a paper binder for scheduling and tracking students. This is much better.
❤ Ems coordinator, Fire department
We use Teamup Calendars for scheduling transportation/appointments, activities, and staff schedules in a nursing home. We love the ease of access, flexibility, and readability of this product!
❤ Small business manager
We are a direct sale company. We use it as a company wide calendar for events.
❤ VP Operations, Small business
We are > 30 Canal and River Trust volunteers in the West Midlands in England. From April thru October we offer boats and boaters assistance at three lock flights at Hatton, Lapworth and Wilmcote. The calendar allows both the volunteers and our supervisor to see at a glance the manning status for these three sites. Thus we ensure customer service coverage and safety (lone working concerns) issues are covered.
❤ Volunteer, Non-profit organization
We use it to track when contractors going to take time off.
❤ Research manager, Small business
We use Teamup for logging enquiries as they come in showing dates received. We change the status (colour) when we've replied and followed up, and again should an enquiry translate to a booking. We can then see at a glance what's happening.
❤ Managing Director, Small business
We have a staff of 14 people and it was always difficult to keep track of where everyone was. The Team Up Calendar allows us to easily coordinate schedules for joint meetings and allows us to see what meetings others are going to resulting in better office communication & collaboration.
❤ President & CEO, Small business
Wonderful calendar and will recommend it to all.
❤ Louise, USA
We are a direct sale company. We use it as a company wide calendar for events.
❤ VP Operations, Small business
We use Teamup to schedule our gigs.
❤ Geek, Band
It is used for booking days off against staff regular availablity.
❤ General Manager, Small business
I'm very happy with my Teamup calendar so far and find it to be far superior to Google calendars for my particular application.
❤ Nancy, USA
We use Teamup to schedule jobs on our machine & keep 15-20 employees aware of whats going on out on the production floor. This is great! Perfect for what we need.
❤ Production Coordinator, Large enterprise